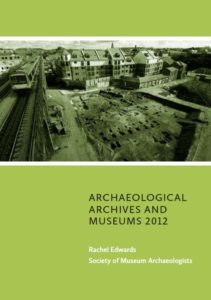 SMA publishes 'The Museum Archaeologist' which contains papers from conference proceedings and an electronic newsletter twice a year containing news, reviews, details of forthcoming events and short articles.
The Society has also published a variety of monographs and reports relating to its work in developing awareness of museum archaeological issues, professional standards and guidelines.
'THE MUSEUM ARCHAEOLOGIST' DOWNLOADS
'The Museum Archaeologist'  will be of particular interest to museum studies students and researchers and anyone currently working towards becoming an associate member of The Museums Association as they contain a wealth of original papers written by leading museum archaeologists.
Early issues of 'The Museum Archaeologist' are currently being scanned and will be added to the Society's website over the next few months. Currently numbers 2-10 inclusive and volumes 11, 12, 13, 15, 16 and 18 are available.
Please note that the Society does not possess a copy of 'The Museum Archaeologist' No. 1 in its archives. If anyone has a copy of this publication please could they contact us. Also Volume 14 was never published by the Society and Volume 19 'Museum archaeology in Europe' is only available directly from Oxbow Books..
Hard copies of back numbers of 'The Museum Archaeologist' are still available, but is is planned that these will be phased out  during 2018 as volumes are made available to download. Intending purchasers should contact the Society's Publications Officer Philip Wise for details of current availability (see below).
A complete set of all publications in print  can still be purchased for £20.00. Individual volumes are available as priced. Payment can now be made by PayPal.
Download a copy of our SMA Publications List here and order online from philip.wise@colchester.gov.uk
In 2012 the results of the 'Evaluating the archaeological resource in store – informing the future' project was published entitled "Archaeological Archives & Museums 2012". Download a copy of the full report:
Archaeological-archives-and-museums-2012
The Archaeological Archives Forum held a meeting to discuss the report's recommendations in Birmingham on Thursday 7th March 2013 and you can read the notes here:  AAF-meeting-notes-v3